Comprehensive insurance cover designed for the unique challenges faced by those operating within the technology and IT industry.
Markel UK has supported those operating within the technology sector as well as IT and communications companies with the reassurance of insurance cover since 1992, meaning we have the experience to keep it simple, whilst also being able to look at risks with more complex or bespoke requirements. Our insurance products have been specially designed to cover the risks faced by those businesses involved in the technology hardware industry, as well as software developers, IT managed services, website design, hosting firms and telecoms resellers.
Coverages designed to keep up with those within the technology sector
With this in-depth sector knowledge, we have created an insurance solution that's tailored to the needs of technology and professional IT services companies. Our product includes cover for legal liabilities, management risks, protection of assets, as well as cyber and data risks. Clients also have access to additional services to help policyholders navigate everyday challenges. Depending on your coverage, you can opt in or add services you need.
Our cover is designed to meet the needs for a wide variety of technology consultancies, companies and services.
Website and software development
Web designers, website design, hosting and marketing, domain registration and SEO, bespoke software, testing, data analysts, IT project management
Managed services, telecom, and network architecture
Telecom sales, broadband/mobile phone/VOIP, systems architecture/network consultancy, system, and network hosting, SaaS, managed services and maintenance, IT support, help desk and training
Software and hardware distribution
Sales, distribution/licences of 3rd party software, apps or hardware, components, and telecommunications apps, including customisation and installation
Manufacturers or wholesalers of:
Communication equipment, Computers and peripheral equipment, Consumer electronics, Electric lighting equipment, Electric motors, generators and transformers, Electricity distribution and control apparatus, Electronic components, Industrial process control equipment, Instruments and appliances for measuring, testing and navigation, Loaded electronic boards, Magnetic and optical media, Optical instruments and photographic equipment, Photographic and cinematographic equipment, Telephone apparatus and equipment, Wearable technology
We understand the sector-specific risks faced by those in the industry. Using this experience, we've specifically designed our insurance solutions to protect against the unique risks that organisations within the technology industry face.
The coverage available can be customised to suit your organisation's specific needs, which generally fall into the three areas of risk below:
Legal liabilities
Public liability, Products liability (bodily injury and property damage), Professional liability and products liability (financial loss), Employers' liability, Management risks (entity defence)
Protection of assets
Property damage, Business interruption, Damage to portable property, Money/personal assault, Transit
Extensions to cover Property/Business interruption
Deviations in controlled environments, Contamination, Machinery breakdown, Public utilities, Denial of access, Restrictions on premises, Customers/suppliers
Cyber and data risks
Cyber and data liability and network interruption
Key products sold on a standalone basis to this industry:
Cyber risks cover designed to protect against both liabilities and the policyholder's own losses, including legal, IT security and regulatory costs.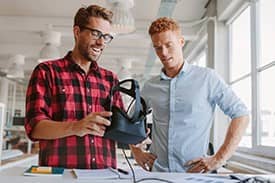 Integrated insurance and business support for technology, biomedical and life sciences companies.
Does your existing insurer provide market-leading solutions for UK SMEs?
Additional services*
Clients also have access to additional services to help policyholders navigate everyday challenges. Depending on your coverage, you can opt in or add services you need for an additional cost.
Featured product
MarkelTech
MarkelTech has been specifically designed for companies that innovate, design, develop, manufacture, supply, or support technology products or services. This specialist insurance package is for start-up, emerging and established SME companies in the technology, IT and communications and biomedical and life sciences space.
Creating canine camera systems

Our MarkelTech solution provides specialist insurance cover for a leading security camera business involved in the development, manufacture and sales of specialist security cameras for dogs. Featuring infrared and audio facilities, the product offers a twin-camera system with a day/night infrared camera plus thermal imaging. The camera is supported with a two-way audio capability and is chest mounted on a dog recording images and transmitting via WIFI to a permanent base. The applications range from military seek and find, war and terror situations, border force usage, search and rescue. Clients such as this benefit from our specialist policy for tech hardware manufacturers which includes cover for the development and use of prototypes. Many standard policies lack clarity on this leading to confusion or no cover at all.

Electric car chargers, renewable energy and wireless sensors

MarkelTech provides robust insurance to a business that manufactures renewable energy products, including electronic vehicle charge points. The innovative company has two main products – vehicle charge points and an energy management system that diverts extra power from the sun or wind to a designated heating appliance. An innovative business such as this typically sees costs related to subcontractors, technical analysis, management, testing, prototyping, developing manufacturing processes and software licenses – all of which are eligible for tax relief. Tax support for claiming this is inclusive with MarkelTech which is very popular with clients who have been able to inject some valuable cash into their businesses.
Find out more

Access proposal forms to request a quote or view technical documents related to our products or services.

Services

From our 24/7 business and legal helpline, to our R&D tax relief consultancy, our customers have access to our legal and tax services, providing a complete solution for their wider business needs and goals.

Our claims service

We aim to settle claims as efficiently as possible so our policyholders can get on with their lives.

Markel UK brochure

View our brochure to find out more about our services.