Comprehensive insurance cover designed for the unique challenges faced by professional firms.
The risks facing media organisations are challenging. The sector has evolved rapidly with the expansion of digital and social media marketing and publishing, which has changed how content is distributed and paid for. Markel UK has been a specialist insurer of companies operating in the creative and media space for over 30 years. We cover organisations from media agencies and production companies to publishers. We have a remit that extends from digital agencies and event organisers, through to freelance journalists and broadcasters.
Coverages designed to support creative and media companies
Markel UK offers a wide variety of coverages for professional risks such as those faced by creative and media companies.
The types of companies we support with our solutions include:
Media professionals / agencies
Marketing and advertising consultancy
Graphic design, PR and corporate branding
Digital marketing and web design
Production services
Event organisers
Photography and filming
Corporate film production
Traditional media
Publishing services – print and online
Broadcasters
Freelance journalists, authors, copywriters, etc
Professional indemnity policies have traditionally been arranged on a standalone basis, but we provide a menu offering that allows other types of business protection to be arranged, often under the same policy – resulting in a robust insurance solution designed to minimise gaps in cover. Our menu of covers includes:
Responsibilities to third parties
Public and products liability, professional liability, management risks
Business continuity
Entity defence, business interruption, money and personal assault, fidelity, cyber and data risks, PR crisis management
Protection of assets
Property damage, damage to portable property
Responsibility as an employer
Employers' liability, employment law protection
Key products sold on a standalone basis to this industry: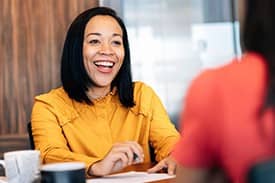 Cover designed for firms operating in specialist sectors offering high-value or complex advice.
Cyber risks cover designed to protect against both liabilities and the policyholder's own losses, including legal, IT security and regulatory costs.
Does your existing insurer provide market-leading solutions for UK SMEs?
Additional services*
Clients also have access to additional services to help policyholders navigate everyday challenges. Depending on your coverage, you can opt in or add services you need for an additional cost.
Featured service
Business Hub
An online hub containing 850+ DIY contracts, policies, forms, and letter templates, covering every area of business, including health and safety, trading and contracts, and cyber and data.
A new publisher struggled to obtain cover

A new publisher, publishing a new 'real life chat' magazine, had problems obtaining insurance centred around risk management procedures (checking the factual content, privacy issues, pre-publication legal screening, etc). Working with the publisher's broker and our specialist solicitors we were able to put forward a competitively priced package including a libel risk management plan, risk management training to the editorial team and a risk management guide, all specific to the publisher's needs.

The ongoing support has helped establish a strong business relationship between the policyholder, broker and insurer.

Part-work publishing

Part-work publishing is often seen as a high risk as publications often have a worldwide circulation with licensing agreements serving major global brands. Claims alleging misrepresentation or erosion of brand value are not uncommon. A broker, trying to secure the business of a major player in this sector, arranged for Markel UK to visit his potential client.

Seeing the publisher's risk management practices at first hand, together with an in-depth understanding of existing and potential contractual relationships, enabled us to put forward a competitive quotation with a mutually agreed risk management programme. Both the broker and insurer secured the business.
Find out more

Access proposal forms to request a quote or view technical documents related to our products or services.

Services

From our 24/7 business and legal helpline, to our R&D tax relief consultancy, our customers have access to our legal and tax services, providing a complete solution for their wider business needs and goals.

Our claims service

We aim to settle claims as efficiently as possible so our policyholders can get on with their lives.

Markel UK brochure

View our brochure to find out more about our services.